125th anniversary celebrations for Vincenzo Cremona's statue of St George
---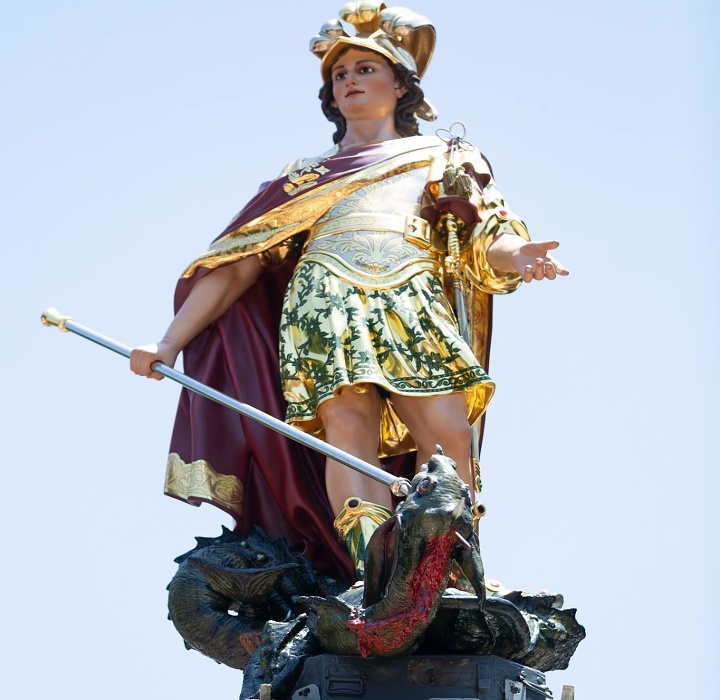 Special celebrations are being planned by the La Stella Philharmonic Society in Victoria, to commemorate the 125th anniversary of Vincenzo Cremona's statue representing the victory of St George over evil.
The liturgical feast of St George, patron Saint of Malta and Gozo, will this year be celebrated on Monday, the 29th of April, as the 23rd occurs during the Octave of Easter.
The Society said that the statue, "which is the first to be used in external festivities in Gozo," is considered as Cremona's masterpiece in every way, and to this day, is the king pin of the celebrations held every third week of July in honour of the patron saint.
The programme of celebrations will be held over three months, and the first event will be a band march featuring the statue this Sunday, the 28th of April, starting at 1.00pm, by the resident La Stella Philharmonic Band, and St Margaret Band from Sannat.
The on Thursday the 2nd of May, in conjunction with the anniversary of the statue of St George, an exhibition featuring Cremona's best-known pieces from all over Malta and Gozo, will be inaugurated at the La Stella Band Club. This will take place at 7.30pm.
Other events are a festive dinner, which is this Saturday, the 27th of April, in the foyer of the La Stella Band Club; as well as the Solemn Pontifical High Mass on Monday, the 29th of April, at 7.00pm, at St George's Basilica in Victoria.